Conference Android2EE with the Android User Group June 18 Paris.

An article by MathiasSeguy

no comments


Wednesday 18 June in Paris 19 h with the ParisAndroidUserGroup do not miss:
Android world travel.
Tips and tricks along the way.
You, Yes, you, the Android Developer, expert or beginner, take your Bill, I take you.
I am offering you a journey within the world of Android development. I speak you of Design and UX, technical dev, of asynchronicity and safety, good practices, architecture, libraries, strategies network... and many other things still. Of all these details that make an application becomes an application of excellence.
I will show you the street of the pro-tips, best practices, the mountains of archis avenue. You hunt with me all these paths that will improve your development, your mind, your design, your Android application.
And when I will bring you back into your port of origin, the eyes that shine you and update your Android application you'll go.
Single sailor or ship's captain, will not let go this trip, you will open new avenues in the Android world.
Date: Wednesday 18 June 19: 00 - 19: 30.
Place: at BeMyApp, 86 rue Charonne, 75 Paris (in the 11th, near Bastille).
Speaker: Mathias Samuel (me what)
Mathias is the founder of the company Android2EE; Training and Expertise Android. He is the author of several books on the subject (available on Android2ee.com) and articles on Developpez.com. Mathias is fascinated by the Android technology. It gives courses on art and how to perform applications Android smooths, responsive, and smarts. When he is not training, he wrote articles, launches projects open source or in place of the Android tutorials. It offers also a whole bunch of free resources (tuto, support of conferences, videos, articles, ebooks) to jurisdiction over the Android technology on its site internet android2ee.com
The next training Android of Android2EE:
Paris:
And from 16 to 20 June in Paris, comprehensive training
Toulouse:
From 19 to 23 may at Toulouse, training complete
The next six months is planned, please do not hesitate to y have a look.
[For more information on training Android2EE: http://www.android2ee.com/fr/formations-android/formation-complete]

Soon, at 18 also.
Mathias Séguy
This email address is being protected from spambots. You need JavaScript enabled to view it.
Founder Android2EE
Training - Expertise - Consulting Android.
EBooks learn programming Android.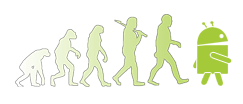 Find me on Google +.
Follow me on Twitter
Join my LinkedIn network or Viadeo
Original author: MathiasSeguy