Education Android + 4 (3j):
HoneyComb, IceCreamSandwich and Jelly Bean: practice good.
All our courses are tailor-made , this plan fits your needs.

Date: from 12 to 15 October
Place: Toulouse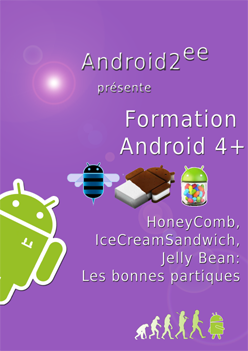 Objectives:
The goal is to master the new APIs of the versions of the system emerged from Honey Comb, Ice Cream Sandwich and JellyBean (Version 3.x and 4.x of the Android system).You will have an understanding of the DesignGuide rules associated with these versions and you will master the following elements:
An Ice Cream Sandwich update (1 day):
Fragments (static, dynamic, background...);
Different navigations (Tabs, Spinner, NavDrawer);
ActionBar;
The new Api of Notification (JellyBean);
You will also address the following new components:
ViewPager
CursorLoader and CursorAdapter
GridLayout
NFC Beam
SharedActionProvider
TextToSpeech and SpeechRecognition
Animation (post Honey-Comb)

Finally you will experience best practices to effectively manage the multi-versioning allowing you to compile an application that is compatible with all versions of the system (from level 8 to level 17) including the use of the Support-"library".
audience and Prerequisites
Public concerned
Developer wanting to program efficient Android applications using the latest features of the system
Prerequisites
Understand the concept of object oriented languages.
Know the JAVA language.
Completing training Initiation advanced Android.
Level 2 training
This training need a good level on Android. You have acquired them to participate in this training, the bases will not be addressed.
So, either you made the training "Android: fundamentals to autonomy and performance", either will need to prove your level that I accept you without that it penalizes other students (an application, a telephone conversation or a questionnaire will be charged).
This training is compatible HoneyComb (Level 11) to Jelly Bean (Level 16) passing through Ice Scream Sandwich(Level 15). The practical work is done under Ice Scream Sandwich (Level 15).
Partnerships
Parisian training is carried out in partnership with
Zenica
. Those of Toulouse with
Makina Corpus
.