The objective of this training is to allow Java to become an Android expert developer.
He will know following this training develop an Android application that adapts to all SDK Android (from 1.5 to 4.1), while respecting good practices of the system either for tablets or phones.
So this training splits into two separate parts.  Android and Android architecture 4
All our courses are tailor-made, this plan fits your needs.

Date: from 12 to 15 October
Place: Toulouse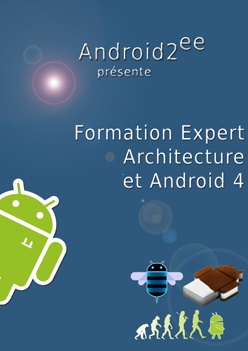 Objectives:
Architecture (1 day):
An Android application architecture;
Pro-Tips Android;
Control libraries (1 day):
The objective is to let you know what bookstores and most useful to include in your projects open source projects:
The open-source projects to use within its projects (AndroidAnnotation, SherlockBar, EventBus, Accra, Spoon, GenyMobil...)
Google services (GoogleSignIn, Maps V3, CloudToDevice C2DM, AdMobs, Drive and PlayGame)
The support-"library"
audience and Prerequisites
Public concerned:
Developer wanting to master the power of the Android 4.0 system.
Prerequisites:
Understand the concept of object oriented languages.
Know the JAVA language.
Completing training Initiation advanced Android.
Expert training
You must already be an Android developer to access this training.
This training is compatible HoneyComb (Level 11) to Jelly Bean (Level 16) passing through Ice Scream Sandwich(Level 15). The practical work is done under Ice Scream Sandwich (Level 15).
Partnerships
Parisian training is carried out in partnership with
Zenica
. Those of Toulouse with
Makina Corpus
.