Hello
Good news for all those who have bought the book 'Android A Quick race' or ' Android A Complete race ", the BlueTooth of Android2EE tutorial is finally available. I filed it on GitHub at the following address:
https://github.com/MathiasSeguy-Android2EE/BlueToothTuto
This tutorial explains thoroughly the implementation of BlueTooth communication between two devices. It contains 3 activities and a service whose objective is to put in place a chat between the two devices.
The EnableActivity activity allows to detect if BlueTooth is on and snap it otherwise.
The DiscoveryActivity activity to detect BlueTooth devices and get detectable then it allows to connect to this unit.
Once the connection is established, the Application object retains the socket, launches the Service of communication between the two devices and also launches the communication activity.
Binds the activity of communication (bind) service then it displays and sends the message to a device to another. It also allows to stop, start or kill the service. The murder of the service also frees the socket.
The simplified class diagram: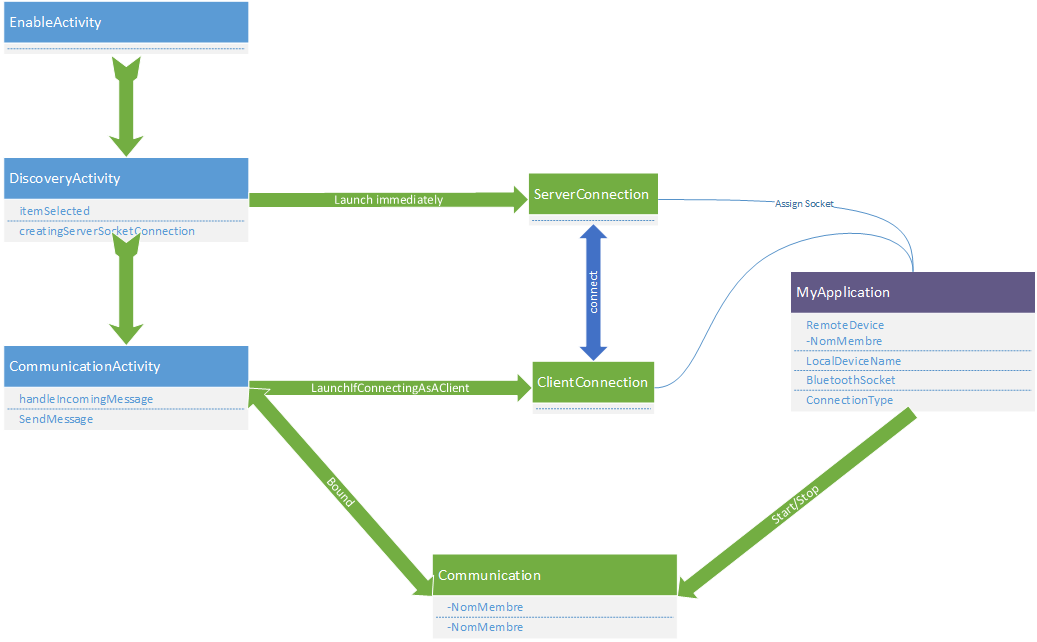 An example complete somehow.
Then good download and good understanding of the tutorial.
Mathias - Android2EE